FluiD - Duality, reviewed here
Christophe, could you retrace for us your musical trail before Duality?
Before FluiD and before Duality, I played in several bands in California, where I'm originally from (I now live in Chicago). I played bass guitar, saxophone, drums and synths/keyboards in those bands. The music of those bands ranged from R&B/electro to No-wave to goth-industrial to thrash-metal and a whole lot more. For varying reasons, things didn't happen for those bands. After my last band ended, I started to really focus on working solo. Whilst I really enjoyed playing in those bands and working with some incredibly talented and inspiring musicians, I will continue to work solo for the foreseeable future. For now, it's simply the best way for me to create and perform. As a solo artist, I previously used the aliases, Re: dux tion and subduxtion. Under both of those aliases I released music. All of that history is what has led me to FluiD. Most importantly it has all led to who I am musically, sonically and conceptually. For as much as I've learned about myself musically, I have also learned a great deal about myself and my motivations/reasons for making music. As FluiD, I have released 3 net-only download releases ( 'Noise in the Neurons', 'Unavoidable Abuses' and 'Simultaniety'), before the release of Duality. I've also done a few remixes (John 3:16, Disinvectant and Actors & Actresses) and had tracks on various compilations.
Duality delves into a dark blend of industrial music, dub, rock, hip-hop. What inspired you when you create it?
Duality is really a reflection of me and the music/musicians and artists that inspired me and made an impact on me. I really wanted to make a musical statement about who I am. Music for me is about communicating what I'm thinking and what I'm feeling. I wish I was better at verbally communicating with people. There is a mystery and a weight to who I am. I think I've begun to understand that and realize it's part of who I am. It's something I can tap into and draw from. It was very important not to compromise and try to fit it into any category or genre. Duality blends different types of music because I don't listen to just one type of music. I have been profoundly affected by the music of many musicians across a very wide sound spectrum. The world is full of amazing musicians and music and I've spent most of my life seeking them out. Inspiration is also a challenge. I was not just inspired but challenged by what I had heard, seen and read. I needed to make something that honored those who had inspired me. In some way it's also a thank you to those who pushed and pulled music and art into new forms and new directions.
The full title of your album is 'Envisioning Abstraction: The Duality Of FluiD'. This is enigmatic. What are you referring to?
What I'm referring to is the idea of the dual person. As an African-American (creole to be more specific), I am of two equal identities. It's important to acknowledge being both of African heritage and being born in the US. You don't have to deny one in favor of the other but it is a difficult balancing act, one that many African-Americans struggle with on a daily basis. How do we connect with a heritage and history that was stripped from us? Would my forefathers and mothers have come here, if they weren't stolen and sold here? It's also about feeling a bit like an alien in my own world. Everything it seems is pre-defined. Being black equals this, being American equals that. Limits are imposed, rules and boundaries put in place and more importantly put to work. When you don't fit into the boxes, when you strive to do more than what someone has pre-determinded that you can do or who you can be, you find yourself labelled and viewed as different, marginalized. "Not really one of us". Whomever "us" happens to be at any given moment. It's about embracing a singular path. Sometimes that path crushes you and sometimes you crush it. It's not about choosing to take a different road but about it being the only road you can take. Some choose a path and sometimes a path is chosen for us.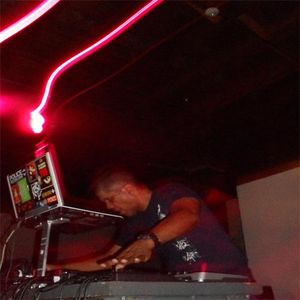 You studied classical and jazz music, and learned to play a wide variety of instruments since you've been a child. How this education led you to a musical universe where the first thing you claim is abstraction?
Learning to play a wide variety of instruments was part of my musical education and sometimes it was out of necessity. I started on clarinet in the school band and then progressed to piano, saxophone, flute, oboe, drums and bass guitar. I studied classical music and Jazz to gain a greater understanding to those two musics. Abstraction is about reducing things to their essence. From Jazz and classical musics I learned new things, new ideas and new approaches and took those things and Incorporated them into my musical language. Abstraction isn't necessarily about nothingness. For me it's about gaining an understanding of something and then breaking it down into it's core.
Duality sounds full of dust and smoke. What makes you drive the listener into dark and creepy environments?
The sound of Duality is about immersing the listener into my world. I've always favored dark and creepy, over say light and happy. From films, to music to art, dark and creepy are certainly present in what I tend to favor. I think it has to do with the otherworldlyness that darkness creates. We live in the daylight and as such it's not as interesting because it's our known environment but darkness isn't. It's an attraction to the unknown and a curiosity to see what lies within that unknown. The "dust and smoke" you refer to is the sonic oppressiveness of my style. The effect of smoke and dust is that of choking. A grasping for air as the dust and smoke act like a weight upon your body. I know that weight very well, music helps relieve it.
The artwork of your album, designed by Trey Crim, represents the American flag into the African map. Besides, one of your aliases is The Post-human Cyborg. Why do you call yourself an "afrofuturist" ? What place does futurism occupy in your music ?
First I want to say that Trey did a great job of visually translating my concept for Duality. I had had the idea for the artwork for a few years now but I needed to have the right release to go with it. The idea was to visually represent who I am; after-all, I am an African-American. The American flag and the African continent are of course, both iconic images. Put them together and you have a very powerful and hopefully thought provoking visual statement. I call myself an Afro-futurist for a couple of reasons. Afro-futurism to me is about hope for the future. A future that brings enlightenment, strength and dignity to all people of color. It's important for all people of color to understand that they are not second or third class people. Everyday we need to keep pushing forward to build a brighter future. I want and envision a future that everyone has a part in building and shaping. People of color need to understand that they have every right to a prominent place within the present and the future. We need to better understand our past. Futurism is about being better than who we are. It's about what can I imagine, how can I be better? It's a daily concept and an abstract concept. It's not really about robots, jet cars and teleporters but how do I make myself and my tomorrow better than today? It's very easy to let our mind and the daily grind imprison us, I'm as guilty of this as anyone.
How did your cooperation with Alrealon Musique, based in Geneva, start?
I met Philippe Gerber aka John 3:16 who founded and manages Alrealon Musique via MySpace a few years ago. At the time we met, he was in the band Heat From A Deadstar and I was using the alias Re: dux tion. We just started messaging each other, like most musicians do. He told me that HFADS were putting together a remix release and approached me about doing a remix? Eventually Philippe told me he was starting a label and asked if I would I like to do a release for his new label? I did my first Alrealon Musique release under the alias subduxtion. We have worked together since and our partnership has resulted in the release of Duality; I could not imagine releasing it with someone else. Even though Philippe and I have never met, I consider him to be one of my closest friends. His support for me as a friend, as a label and a business partner has been invaluable. I am lucky to have met someone who believes in me and the music I create, the way he does. I doubt I would be where I am today musically without his tireless efforts and much needed encouragement.
Which artists made you want to write music?
Miles Davis, Herbie Hancock, Justin Broadrick, Kevin Martin (The Bug), Trent Reznor, Prince, David Bowie, Skinny Puppy, Massive Attack, Tricky, Phillip Glass, John Zorn, John Coltrane, Ornette Coleman, Sun Ra, Public Enemy, The RZA, The Clash, PIL, Lee Perry, Adrian Sherwood, King Tubby, Slayer, Scorn, Ravi Shankar, Bill Laswell, Spectre tha Ill Saint and DJ Spooky. These are just a few of the artists that profoundly affected, influenced, inspired and challenged me.
What is coming next in your musical projects?
Currently I have a track on a just released compilation called 'Classwar Karaoke - Survey 13'. The compilation is available as free download. For more info, please go here. Spring and the rest of the year will see me playing shows. I have a track on a forthcoming compilation for OxFam International. All the proceeds of the sales will be donated to OxFam International to help rebuild communities around the world. I'm very honored that they chose to include me as part of this. Also planned is a split release with John 3:16. We're hoping to have it out by late summer or early fall via Alrealon Musique. Thank you very much!
Thanks to FluiD for his time and his sincerity.