While on October 8th, The Riddim Collision festival delivered an evening of anthology, none of us, heretic writers from Chroniques Electroniques, had made the effort to drag our boots to the beautiful city of Lyon. The opportunity to interview Hecq was grabbed by Timothée Mathelin aka shift., the big man who, among other things, realized our awesome banner (above). One more partneship then, in order to give our readers an exclusive interview with Hecq.
The 10 years anniversary of Ad Noiseam is invading the whole Europe with fantastic gigs here and there, now crossing the borders until Russia. The crew (this time composed of End.user with Bong-Ra, Mobthrow, Detritus, Hecq with Matta, and all surrounded by the Head of Ad Noiseam, Nicolas Chevreux) was playing in Bordeaux and then Lyon during the 10 days festival Riddim Collision, organized by the French label Jarring Effects.
A great opportunity to meet the Berliner-Avenger of neo-dubstep fields, Hecq aka Ben Lukas Boysen and to talk about his music perceptions and productions, his forthcoming projects… and also a bit about the rain….
Read the full interview right below or listen to it entirerly with the audio player here (click on the track name "Hecq-Interview…" to launch it)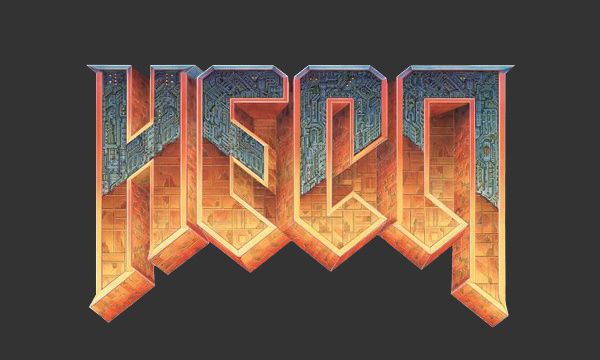 First of all, what Hecq means please?
It comes down to my incapability of thinking good names. It comes from "what the heck".
I changed the K, and added the Q and that's all…
So, you've been playing yesterday for your first time ever in France, was it?
Yes it was. I was very excited about that, also because the back to back set with Matta was a premiere… I never played with somebody at the same time, them neither, so it was a premiere for both of us. And there was a lot of fun, so thank you France, it was really good.
How did you find the French audience?
It was really stunning. It sounds like a thing to say if you premiere somewhere but it really was amazing. People were lovely and also forgiving with us because we had few fuck ups… missing transitions, basically little things but important things for musicians and the audience was anticipating these breaks as well so they were really nice people.
How was the set with Matta basically? What were you doing? Are you both playing Hecq and Matta's tracks and changing them on stage together?
Well, that was the plan... to play our stuff or our Dj sets back to back (so not necessarily our own music… It will be the same tonight, it won't be exclusively our stuff) but we had technical problems, we didn't manage to synchronize, we tried everything but we finally decided to have a set of 40 minutes each.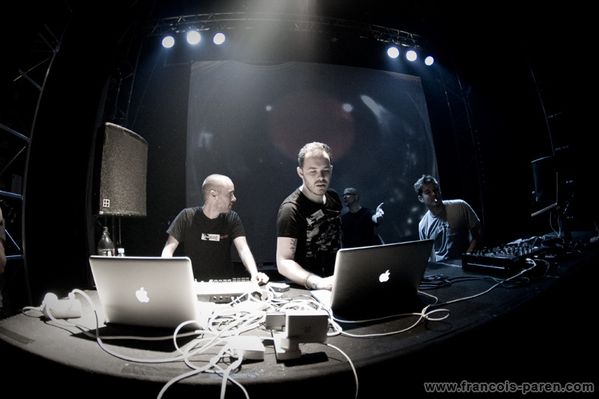 Hecq VS Matta – Lyon, Riddim Collision Festival. Photo Credit : François Paren
Well, let's talk about your new album, Avenger that you launched on Hymen Records. You changed your music style since your Sura Ep on Ad Noiseam and here again, with Avenger, it's definitely something clubby and dubstep oriented, and not ambient and IDM as it was before. The album is very well received by the critics and the people in general but there is also an old part of your listeners that seems to be disappointed by these new changes. These feedback are certainly linked with the "dubstep trend" and the "critic on dubstep trend"… so how do you feel when you receive these feedbacks from some of your listeners?
Well… with every new album, you can't' expect everybody to follow, also depending on the drasticness of these changes. And I must say that it was actually a funny thing to do, a thing that I wanted to do. There will be one ep coming soon that will be in the same style ... and probably that's it then… Let's going back to ambient, or IDM or pretty much everything else, it's really open. But I also understand that's it's very hard when we focus on something to be always satisfied when changes come. I made the experience myself with people producing music I really like… and if they drastically change their style then I just can say "ok, I can't follow that anymore".
You can't protect yourself from that so in a way, I must say I can't care too much… otherwise I would compromise the idea of what Hecq is about. Critics are a tricky thing. Obviously they don't have something against you as a person but your music is such a personal thing… I guess that is what we have to live with, so no bad blood …
Anyway, do you now have a strong desire of brutality in this new music production? This latest album is still cinematic at some points but the kicks are very hard and I was wondering what happened in your mind now? Do you need to kick the bass with a certain brutality?
No, I think it's more about the energy. I like energy. It's not meant to be evil or brutal. It could be assaulting but my perception of these tracks is that they should be energetic as possible… charged as possible, but not necessarily dark. I am personally quite a sunny-side person but I admit that menacing and assaulting music is the best thing there is, along with complete ambient, classical and minimal sound. It's weird, I am a border-line composer I guess.
Well yes, and I know that you are pretty much influenced by people like Arvö Part or Murcof concerning the production of your ambient works, especially for the tension they can bring to their music. Concerning this new music style coming with you, do you also have some strong influences orienting your creation?
It's a good question because I must say that at home; I hardly listen to any electronic music. The only pure electronic track that I have extensively listened to over the last months was a Clark remix for Maxïmo Park. The years back, I was exclusively listening to electronic music but for me it's now more interesting to listen to everything else, so no, there is no direct role model… or Clark could be one if I have to quote one.
I am more listening to all kinds of music to get the "metashape", the idea and the structure of the concerned music, and then go back to the sub-bass line and try to park that in my music.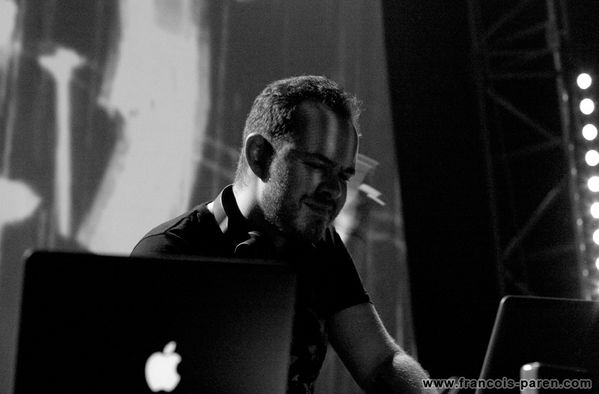 Hecq – Lyon, Riddim Collision Festival. Photo Credit : François Paren

You just realized your first soundtrack for a movie called Restive, can you talk a little bit about how it was for you and how did you get working for a project like this one ?
It was an absolute premiere for me, I've never done this kind of work before but I was always aiming for that, so it's the higher goal for me. This is where I want to be at and I can't tell you how amazingly happy I was when I knew I was going to do it. It's a very special movie; I want to say a "niche" movie. It's not for people who would expect movies like Transformers, it's very dark and bleak. It is structurally hard to get, which is also affecting the music and you have different timelines and a very small cast…
Did the director gave you a bit of freedom and asked you some interpretation?
Absolutely, I couldn't have had more freedom; the only thing we discussed on was the instrumentation, basically what kind of instruments we will use on this. That's everything he left to me and then, we talked every couple of weeks over a year, so we finally talked a lot.
When is the movie out ?
It premiered last Monday in a festival in London. I don't know that much about niche festivals but that's also something you are never told to discover, so I was there and it was really good to sit there with a couple of friends and the director and to watch these years of hard work on a cinema…


Do you have some more things coming with Rob Chiu and Christopher Hewitt, as Devoid of Yesterday?
Well, lately all three of us didn't notice how much time past. We are all working together but rarely as a triangle of…love… but yes, there will be some more stuff to come from both Chris, Rob and me. Definitely.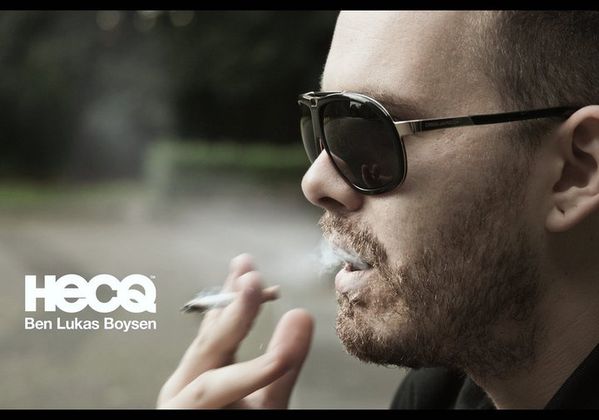 Photo Credit : Liis Roden
I have a last question which is a bit personal.
There is something that I really like in your discography, which often comes back in your tunes, and it is actually the rain. You sometimes bring rain sounds, I have in mind tracks from Golden Pines or Bad Karma, especially one song that I absolutely love - the track Lost - which is to me, a wonderful tribute to rain. Then I would like to know how rain is inspiring for you.
Also once, I was thinking and saying to myself that this song, Lost, could be a perfect music for dying. I was sadly thinking of this. And later on, I discovered during an interview you gave to Solipsistic Nations that this song has actually been played at your father's funeral. I was then wondering about the importance of this song to you. What is this song for you?
Well, first … about the rain. Yes, I just love rain, there is probably not much more to it.

Well, that's probably the only answer I wanted.
No, but you just sitting there and like for example right here, we look through these big panorama windows, and it's actually raining right now…
It could really pour down, then you just stay there and have a talk. Rain forces you to just stay inside and to focus a bit on yourself.
Rain also has a versatile message or a versatile function. I can't really explain it without getting too cryptic because I haven't thought about that myself other than… I really like it.
There is a track by Illusions of Safety on an ambient project (album: Of and The). It is mostly a drone and the track lasts about 25 or 28 minutes. It starts with an orchestra tuning for around 5 minutes and… it's not very pleased to listen to but over the duration, it's just "woow" … and this changes into a mild drifting thunderstorm for at least 20 minutes.
It is amazing; I love that piece because it does exactly this slight rumbling in the distance. It is basically just a good field recording, there is no compositional work at all, but the real compositional tension is in this transition between this orchestra dying into this drone thing…
The fact that the track Lost has been played at my father's funeral is because we had a lot of music exchanges. When I started to introduce him the music I was listening to, I was around twelve or thirteen and he was absolutely not a fan of it. Then I said to him I will make you learn about that. Through the years, the dialogue itself between him and me was very helpful for both of us because it was an educational work.
Then he was sick for a long time and a day he said to me, I want this song played at my funeral.
That was a huge honor… When that day came, it was stunning because really touching for me. It was a statement, a testament to the dialogue I had with him, I mean… How final could that be?
Literally the last piece of music that you chose for yourself.

I will never forget that, obviously for many reasons. So what you said is interesting because he probably though the same, like it could be a perfect music for dying
Thank you very much for having answered my questions.
Thanks to you.
Interview by Timothée Mathelin